Everyone loves to visit Goa! Goa is a paradise for travellers like us, but very few of us really know this beautiful place. Your experience can be very disappointing if you don't explore wonderful places. There are too many beautiful places to be explored there. We have covered some of the best places to visit so that when next time you visit Goa, you also can enjoy and be thrilled with its true beauty. (if you missed out on the first time.)
Calangute Beach–
Calangute beach is the largest beach in North Goa. It is visited by thousands of international and domestic tourists and is famous for its nightlife. There are many pubs and bars which are quite popular over here. You can enjoy water sports like windsurfing, boat ride, parachute ride, etc. This beach is perfect to visit in the winter season as the water temperature and level are just perfect. There are local shops where you can shop for beachwear and accessories.
Agonda Beach–
Agonda beach is in South Goa and is home to Olive ridley sea turtles. It is famous for its bright white sand, sparkling blue water, and pleasant shacks spread across the beach. If you want some personal time to relax and find yourself then this beach is the best place to go as there are less crowd and a quiet environment. When you are at this beach you feel close to nature.
Vagator Beach–
Vagator Beach is in North Goa about 22kms away from Panjim. The beautiful white sand is covered by big black rocks which look absolutely mesmerizing. There are palm trees all across the shore. This beach is famous for its dynamic cliffs and secluded nature. It is a pleasant view to watch the sunset through the rocks. There are local tattoo shops over here. So if you want to do a tattoo then Vagator is the best place to go. There are many water sports activities done over and Vagator too is famous for nightlife.
St. Francis Xavier Church, Old Goa–
It's an old Portuguese Church also known as the Basilica of Bom Jesus and is situated in North Goa. This Church was the capital of the Portuguese and holds the remains of St. Francis Xavier. The Church is almost 425+ years old. The church has a museum that has many historic art and scriptures. Every year 3rd December is celebrated as the feast of St. Francis Xavior because it's the death anniversary of this Saint.
Tambdi Surla–
Mahadev temple at Tambdi Surla is the 12th Century temple and is an active place of worship of Hindus. This temple is carved from a single Rock. Being in a remote area it's the only temple that has survived the destructive violence of Muslims and Portuguese. Since it is covered by forests on all the sides it's a quiet place to visit. A river let flows next to the temple a perfect place to read a book or to see the beauty of the nature.
Palolem Beach–
This white sand beach is situated in South Goa. It is known for its calm waters and nightlife. Silent discos are quite famous over here. The party people wear headphones so that they do no disturb the surroundings. The shore of the beach is lined with beautiful coconut trees and Wooden shacks facing towards the beach. The various activities to indulge in over here are yoga classes, dolphin–spotting trips, ayurvedic massages, Surfing.
Cabo de Rama Fort and Beach–
This is another silent beach which has a fort 2kms away. The blue water with a greenish hue, white sand palm trees will make you fall in love with this beach. Next to the beach is a small freshwater riverlet, during the rainy season its water flows directly into the sea. It is considered a perfect picnic spot as it has a lot of palm trees providing shade, Freshwater where you can play with the ball or swim, and the sea in front of you. There are no water sports activities done over here.
Dudhsagar Waterfall–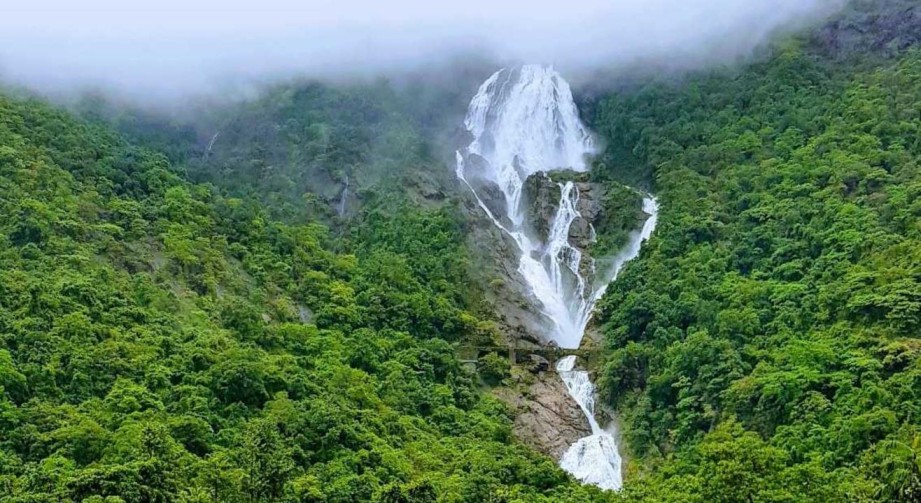 This waterfall is located in Bhagwan Mahavir Wildlife Sanctuary in North Goa. It is one of the tallest waterfalls in India. There are two ways to reach this waterfall one is to travel to Kulem and then take a jeep where they accommodate 8 to 12 people in a jeep and is a 25 to 30 mins ride. The other one is from a nearby railway station where you have to walk for about 11kms along the track to reach the waterfall.
Mangueshi Temple–

It is one of the largest and most visited temples of Goa. The temple is about 450+ years old. There are two ways to go to the temple one is by climbing 300+ steps and the other is a straight road that leads you to the parking site of the temple. Many people climb the steps to show their devotion to Lord Mangesh though a tar road is available that leads to the temple door.
Aguada Fort–
Aguada Fort is situated in North Goa and was built in the 17th Century by the Portuguese. It has a lighthouse which was built in 1864 is one of the oldest in Asia. You can see the sea from the Fort and the view is really mesmerizing.
Hope you enjoyed and liked this article. We post such interesting and informative articles frequently. If you are interested do visit again. Don't forget to check out our social media accounts for more interesting content. See you soon!!!