To take care of our body and skin is no rocket science, it is all marketing strategy when they ask you to follow a "Skincare Routine" there is no such thing as this, all you need is 2 or 4 good products that will help you take care of your skin to follow its natural process without interruption.
Being the largest organ of our body, our skin needs a lot of attention and care during our early ages. Investing in our skin at the right age will help us to go a long way; it will help us save from many skin issues.
Considering a plan that we have and we are expecting our skin to be healthy, during those harsh days of cold and chilly winter, those hot summer and monsoon.
Our skin also needs to be taken care of this harsh weather and pollution out here.
Daily travel may attract impurities on our face and skin & let us accept the fact; nobody has enough time to follow a proper skincare routine, right?
70% of women in Metro cities are working a 9-5 job, they juggle and balance in between personal & professional life, wherein they do want to maintain their skin but are confused, how to do so?
It is very simple, you don't need hundred thousand products to take care of your skin, all you need is to follow few things which will help you maintain the moisture of your skin without consuming too much of your time.
Follow the steps, try for a week, and see the results yourself!
Products for removing your makeup when you're going to bed:-
It's strict No-No! No makeup on when you sleep, no matter how tired you are, make sure that you remove your makeup before sleeping with clean cotton & Oil/Cleansing milk/moisturizer, or whichever product suits your skin type.
Facewash/soap & other products:-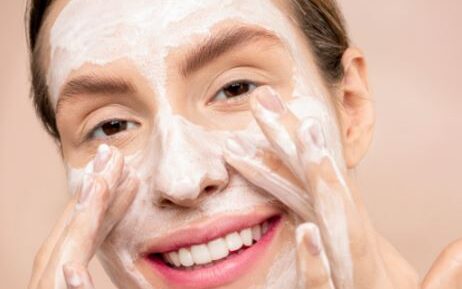 washing your face will help your skin to become clean and healthy, but we should make sure to use the right face wash/soap that suits our skin type.
Sure our skin will be clean and healthy by washing our face but let's not overdo it, as washing your face again and again may lead to turning your skin dry & will snatch away its natural moisture.
Using the right kind of Moisturizer:-
The universal question among women's minds is that what kind of moisturizer would suit them, lucky are those who have found their perfect match when it comes to skincare, and the ones who haven't yet, this paragraph is you.
First, you need to figure out what type of skin you own, Dry, Normal, or Oily.
Dry skin would need a lot of moisture for every season, they should indulge in Oils, Coconut oil, Olive oil, and many other essential oils that will suit the need of keeping their skin moisturized and happy.
Normal skin should prefer a combination of both, as their skin will change the course as per the weather, using a cream-based moisturizer would be a smart decision, just make sure to use the right amount, neither more nor any less what their skin requires.
Oily skin is a blessing and a curse at the same time. Studies have proven that the women who are born with oily skin are supposed to catch the marks of aging like fine lines, wrinkles, and smile lines very late.
Owners of oily skin can use a water-based moisturizer that will keep their skin balanced because their skin already produces a natural oil.
So you see? It is very simple, you just need to adopt a few habits that are healthy for your skin and you shall do good!