The corona pandemic caused many problems for several industries, but only the Automotive (Cars)Industry managed to thrive through all this. Some companies announced new models; some shared their revised schedules to keep the excitement and hipe up. If you all missed that… Don't worry, we have got you covered.
Following is the list of Most anticipated and probably Game-changing cars.
1) BMW I4-
To compete with Tesla Model 3, BMW is working on all-new electric sedan I4, expected to be priced at $50000. I4 will produce 530 Horsepower by electron feed electric motor. According to BMW, I4's battery pack capacity is going to be 80.0 kWh. This all-wheel drive also rumoured to accelerates from 0 to 62 mph in just 4 sec. On top of that I4 have a massive range of 372 miles on a single full charge. With a whopping 150-kilowatt charging capacity, it will charge 80% of driving range in just 35 minutes.
2) FERRARI PUROSANGUE-
YES… it's SUV from Ferrari, Once claimed 'SUV has no place in lineup'. Yup…Purosangue [Ferrari's First-ever SUV] is going to take place in Ferrari line up in 2022.
You better start saving now, because it will cost $350,000 (expected) for this high-performance SUV. Although very little information is released about Purosangue, we can expect to feature turbocharged V8 or Mighty V12. Being Brand's first SUV, Purosangue will be expected to deliver high performance and top-notch quality. We know that by 2022 Ferrari's 60% cars will be Hybrid, so Purosangue also going to be Hybrid.
3) MERCEDES EQ SERIES-
Mercedes-Benz will introduce all Electric Intelligence line up (EQ series) by 2021. There will be 6 models added in EQ line up by 2022. EQA and EQB will be All electric Compact SUV's, EQC will be mid-sized SUV crossover, EQE will be a business sedan, EQS will be the all-electric luxury sedan with an expected range of 435 miles in the new S class Series expected to arrive next year. EQS is currently undergoing testing. SUV models of both EQS and EQE will also be added by 2022.
4) FORD BRONCO-
BRONCO is Ford's Flagship Rugged SUV with 2 doors and 4 door option directly Rivals Jeep Wrangler. According to Ford Bronco is powered by 2 EcoBoost turbo-petrol engines, starting with 2.3-litre 4-cylinder expected to deliver 270hp and 2.7-litre V6 better for 310hp. The gearbox includes a new 7-speed manual equipped with crawler gear or 10-speed automatic transmission. Ford Bronco also comes with Ford's Go Over All Terrain (GOAT) Terrain Management System, with seven modes – Eco, Normal, Sport, Sand, Slippery, and Baja, Mud/Ruts and Rock Crawl for off-road driving.
5) PORSCHE TAYCAN CROSS TURISMO-
Stylish practicality of a station Wagon combined with Porsche's electrifyingTaycan Sedan gives PORSCHE TAYCAN CROSS TURISMO a very high voltage performance. Blistering fast acceleration, driving characteristics of a sports car, increased cargo space, game-changing charging capability, and distinct aesthetic makes it a complete package. Powered by 2 electric motors one on the front axle and one on back generates power output up to 750 horsepower. PORSCHE TAYCAN CROSS TURISMO reaches 0 to 60 mph in just unbelievable 2.4 sec. It also provides consistent performance even when the battery drains.
6) AUDI RS E-TRON GT-
AUDI RS e-Tron GT said to use two electric motors, one in the front wheels and a second to drive rear. This combination will produce 600hp standard, but two-second over-boost function clocks this to 650hp when the car is launched. As a result, it rockets from 0 to 60 mph in just 2.7 sec. Audi RS e-Tron GT supports 93kWh battery which is slightly less in capacity than its competition Porsche's Taycan which has 95kWh but still delivers around 250 miles of range more.
That'll work out fine for most people, but it is way off than 400-mile range of Tesla Model S. AUDI RS e-Tron GT charges using rapid 350kW fast chargers, which will boost its battery from empty to 80% full in just 20 minutes. The Audi RS e-Tron GT set to go on sale in 2021 and will reduce your wealth by around $175,000.
7) TESLA CYBERTRUCK-
TESLA CYBERTRUCK is a perfect example of 'YOUR RULES DONT APPLY TO ME' to traditional truck manufacturing companies. Tesla did think out of the box, Cybertruck looks like it is dropped from aliens. The truck that doesn't look like traditional Trucks but has all traditional trucks' capabilities, more than them to be precise. Tough, scratch and dent-resistant stainless steel design, all-wheel drive, 14,000 pounds of towing capacity, whopping 500 plus mile range and starting price tag of $39,900 Cybertruck sets bar to a new high standard for other pick-up trucks. Cybertruck set to hit the road by 2022.
8) FORD MUSTANG MACH E-
FORD MUSTANG MACH E a perfect combination of past and future. Shares many similarities, name and styling cues with the mustang and Mach E stands tall in the electric segment. Mach E is Ford's first electric crossover which is designed and named after the company's iconic pony car. It features 480 horsepower and up to 630 lb-ft torque from an electric motor mounted on real axel powered by standard range 75.7 kWh or extended range 98.8 kWh battery. FORD MUSTANG MACH E said to support a range of 300 miles in a single go. FORD MUSTANG MACH E goes 0 to 60 mph in just 3.5 sec.
9) RIVIAN R1T-
The futuristic electric truck introduced by American startup brand Rivian is R1T rivals directly to Tesla Cybertruck. Standard all-wheel drive powered by its own electric motor produces up to 754 horsepower. R1T supports 135.0 kWh (ranges from 105 kWh to 180 kWh) battery and claims 400-mile range. R1T goes from 0 to 60 mph in just 3.0 sec. Rivian also has claimed that whatever they have shown in their concept car R1T is what we will get. R1T has a towing capacity of 11,000 pounds and payload capacity of 1760 pounds. This truck is super feature-rich.
10) LUCID AIR-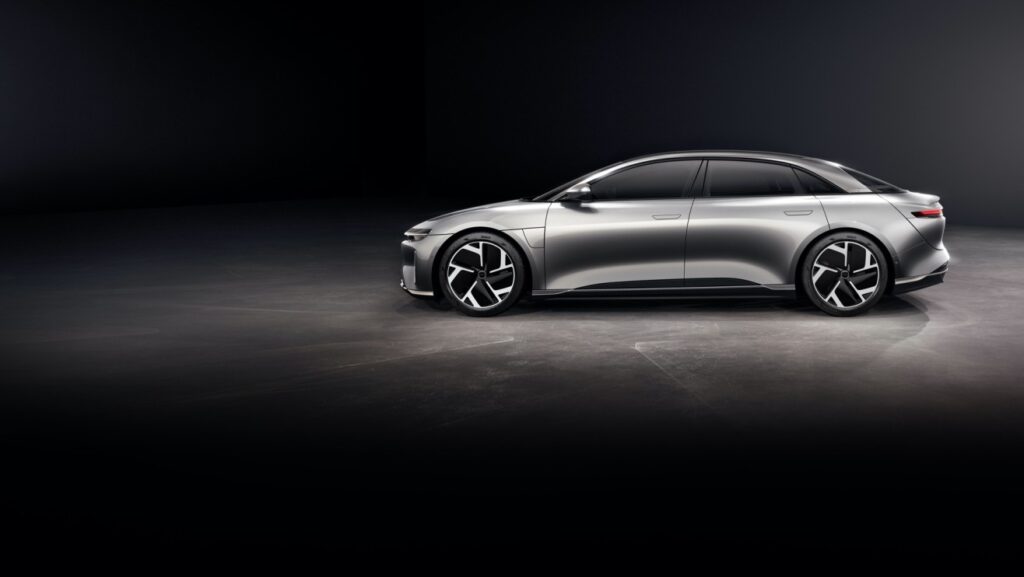 Self-proclaimed Tesla killer Startup company named Lucid Motors will launch its first car AIR by 2021. With up to 517 miles range and 1080 horsepower, Lucid Air already beats Tesla in specifications. AIR looks pretty futuristic with its fashionable aerodynamic shape, spacious and upscale cabin experience, classy canopy. Air can provide 300 miles range in 20 minutes if charged at the fast-charging station and quarter-mile under 10 seconds if you are really in a hurry this does come handy feature. It is going to be priced at around $140,000.
Also Read: 10 Cars Failed At Global NCAP Test And That Are Not Safe
That's it for now…I hope you enjoyed this article. Let us know your thoughts on this.